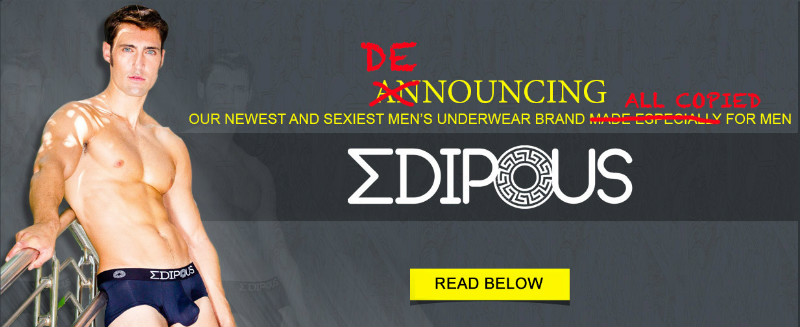 Edipous is an illegal copy of designs created by Ergowear
We made this page to inform the public about the true origins of the Edipous men's underwear product line, recently launched as a great innovation by Skiviez/Mensuas and available through some resellers who may be otherwise unaware.
While it may be hard to pinpoint who inspires who in the men's underwear industry, inspiration and discrete improvement is one thing; blatant copying of over 15 styles including Ergowear's signature FEEL design is a clear act of copyright violation.
Below are specific examples of the copies made. Ironically, on August 4th 2015 Skiviez/Mensuas filed a copyright infringement (PDF) complaint for displaying copyrighted images from their site on ours, so images had to be recaptured:
I. Ergowear FEEL Thong made as Edipous POLYNICES Thong
FEEL stands for "Fully Ergonomic and Elastic", and this revolutionary concept was launched in 2013.
Why revolutionary? Because we developed a design that makes it possible to produce a three-dimensional volume in the pouch without a vertical seam along all or part of the middle. The only other line in men's underwear that accomplished this was our own PLUS line a few years back.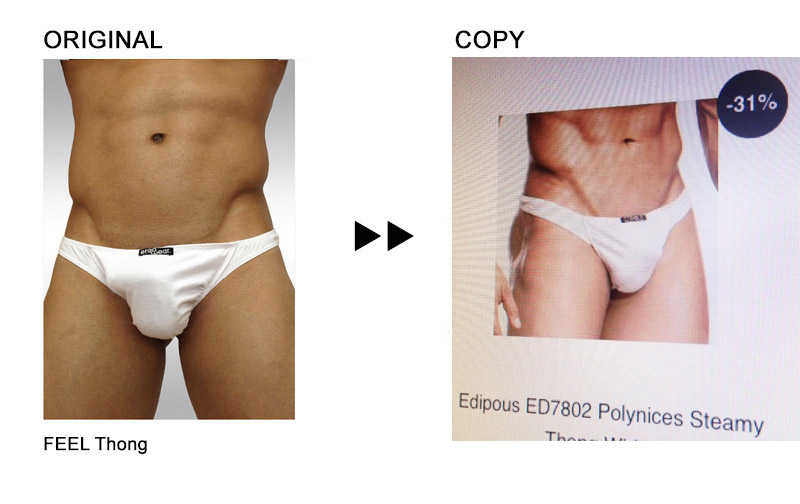 As you can see from the photos, pouch size, shape, label and stitching have all been used to make an exact copy of our successful Feel line. However, Edipous never mentions what fabrics they use - copycats can't have it all.
This is just one style; they also copied the FEEL Bikini, the FEEL Mini Boxer and the FEEL Midcut.
II. Ergowear X3D Mini Boxer made as Edipous HAEMON Trunk Boxer
This is an example of the X3D Line, which was our pioneering product line back in 2002, when we started.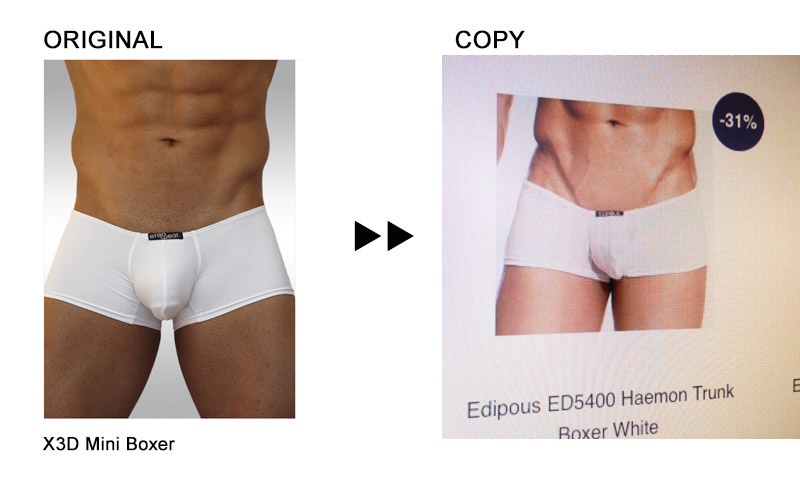 Apart from the X3D Mini Boxer, they also knocked off the X3D Bikini and the X3D Thong.
Copycat activity is not always seamless - literally: When they say in their product description that the boxer is "seamless", they must mean something else...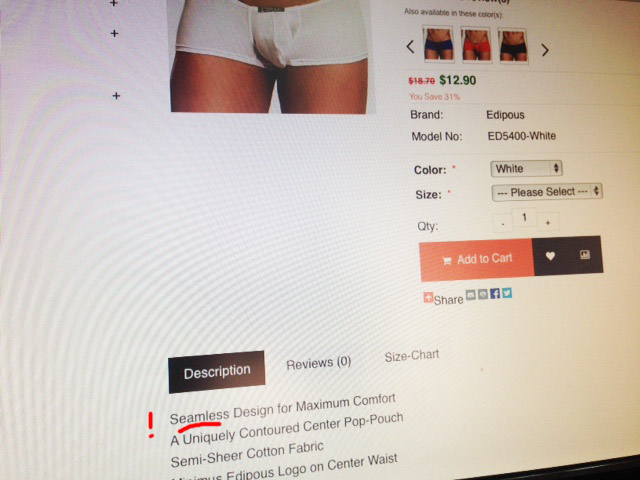 III. Ergowear MAX Light Long Boxer made as the Edipous SPHINX Long Boxer
Another example of our MAX Light line, originally designed in 2007. If you set aside the quality of the pictures, even for us it's hard to tell the difference here without touching the fabric. This is a close one! They also copied the MAX Boxer, the MAX Bikini and the MAX Thong.
IV. Ergowear MAX Mesh Boxer made as the Edipous COSMOS Mesh Boxer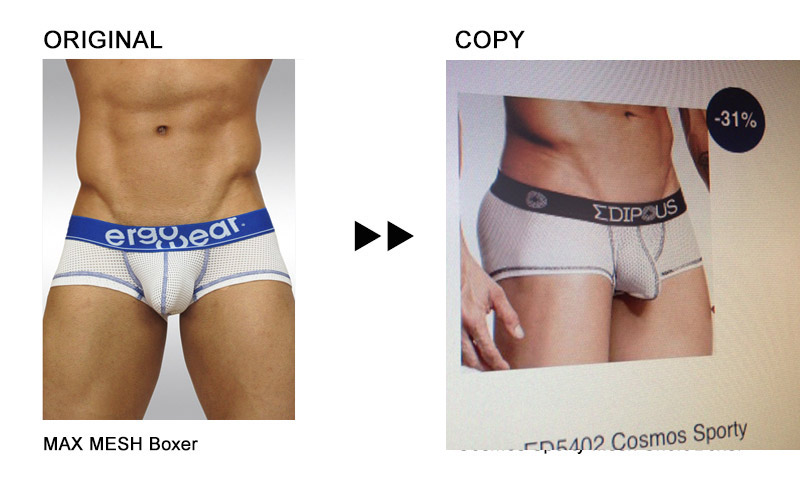 Finally the MAX Boxer in Mesh version - oh wait, it's not copied because they changed the colors! Now if we decide to make black and white, should we pay royalties to Edipous?
Copycats harm us all!
We at Ergowear strongly believe in our mission to continue developing innovative and ground-breaking men's pouch underwear. A large effort of designing, testing, re-designing, improving, producing, and finally marketing is needed to accomplish this, and it involves a lot of professionals and dedicated workers from our company, external production units, fabric manufacturers, elastic manufacturers and other suppliers.
However, unethical en masse copying like the operation undertaken by Skiviez/Mensuas under the name Edipous, decreases the incentive to invest in research and design for anyone in the industry, since they wait for a product to become successful and then simply have it manufactured elsewhere cheaply. We are convinced that this practice is against not just our interest, but everyone's, and we trust that it can be stopped.
True to its name, Edipous's whole existence is turning blind eyes to integrity, and betraying fair business practices. We wanted you to know.
Thank you for caring, reading this and sharing.